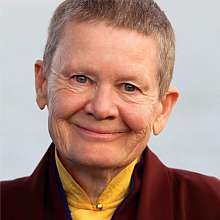 (In Person) Summertime Book Group!
with Janice Ragland & Mariah Freemole
Please join us for a summer book club with Pema Chodron's latest book Welcoming the Unwelcome. We will be gathering together in Janice's lovely backyard in Northampton to share in discussion and practices that help us open to and welcome the fullness of our experience.
The main themes of this group are to learn ways to find common ground with others and to build a stronger sense of community - both local and global.
We'll be meeting on Wednesday evenings from 5:30-7:00 pm. Once you have registered, you will receive a note from Janice and Mariah which will include the address. Please feel encouraged to bring some food and drink to enjoy!
Additional Materials: You will need a copy of Welcoming the Unwelcome by Pema Chodron, and something to sit on (chair, cushion, blanket, etc.) You may also wish to bring a notebook and pen. Please email Mariah at [email protected] with any questions or assistance in getting a copy of the book.