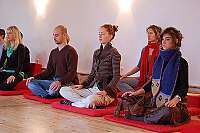 Community Gathering / Open House: Personal Reflections on Trungpa Rinpoche
Sunday Open House
Join us for our monthly Open House. At 10am, we begin with sitting and walking meditation. After a brief break, at 11am, there will be a talk by a senior student with discussion.
You can find the Zoom link to Sunday Open House on our Home page, for the online connection to this event.
Sunday, April 4 at 10:00 am
Personal Reflections on Chogyam Trungpa, Rinpoche
Frank Iglehart and Acharya Fleet Maull were early students of Chogyam Trungpa when he began teaching in the United States. They will share remembrances of being his students in those early days.
Zoom link: https://zoom.us/j/746127106
This event is free and open to all!