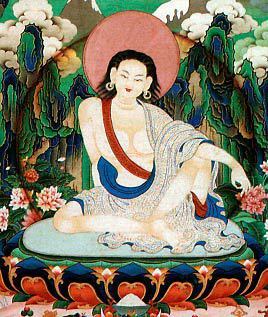 Milarepa Day
In partnership with Shambhala land centers Dorje Denma Ling (Nova Scotia) and Shambhala Mountain Center (Colorado), Karme Choling will host an online Zoom version of this annual, day-long celebration of the life of Milarepa. Together, we will read the entirety of "The Rain of Wisdom," a collection of devotional songs and stories. Schedule:
Session 1: 9:00AM - 12:30PM
Host: Dorje Denma Ling
- Sitting Meditation
- Opening Remarks for Day: Kristine McCutcheon
- Opening Supplications
- Begin Reading The Rain of Wisdom (omit small section on p.11)
30 Minute Break
Session 2: 1:00-3:30
Host: Karme Choling
- Sitting Meditation
- Opening Remarks for Session 2
- Continued Reading of Rain of Blessings

30 minute break
Session 3: 4:00-6:30PM
Host: Shambhala Mountain Center
- Sitting Meditation
- Opening Remarks for Session 3
- Protector Chants
- Sitting Meditation
- Feast and Evening Chants
Please have copies of the chants and Rain of Blessings with you.
More Details
This day celebrates the enlightenment and life example of Milarepa by chanting "The Glorious Flame of Wisdom: The Guru Yoga and Feast Offering to Milarepa" and reading the devotional songs of the Kagyu lineage fathers in "The Rain of Wisdom." These songs are the direct personal voices of the lineage holders, sharing their experiences of the path, practice and realization. In chanting them, we attune our minds to theirs, invoking the inspiration of their sanity and devotion. This collection was first compiled by Mikyo Dorje, the eighth Karmapa and translated into English under the direction of the Vidyadhara Chögyam Trungpa Rinpoche.
Once the practice has begun, a mandala has been established and participants should enter and leave the digital shrine room only during the scheduled break periods, not during chanting. When leaving and re-entering the digital shrine room, practitioners should recite the Vajrasattva mantra to themselves. Those who do not know the hundred syllable mantra can recite the short form, OM VAJRASATTVA HUM. This procedure applies until the end of the day.
Please email [email protected] if you have any questions!
Zoom Link
https://us02web.zoom.us/j/82098429092?pwd=L29GRElBU0Q0QnIzWUJpRnZJYUdUUT09
Meeting ID: 820 9842 9092
Passcode: 394817