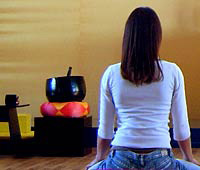 Embodying the Four Foundations of Mindfulness
with Mariah Freemole & Jeff Fennell
"Mindfulness of body forms the basis for the entire meditative journey." (Acharya Gaylon Ferguson)
In this eight-week class, we will explore embodiment, or the direct experience that arises as sensations in the body, as a vehicle for practicing the four foundations of mindfulness (mindfulness of body, feeling, mind, and phenomena.) We'll be exploring this felt sense through shamatha/vipashana meditation, body scans, and light mindful movement. It is helpful to wear comfortable, uplifted clothing you can move in and to make some space in your home in which you can practice.
This class begins on Tuesday, June 30th and runs through August 18th. Registration is required. Suggested donation is $80 to $160. However, we want to make it possible for anyone to attend. There is a pay what you can option, but please be as generous as possible within the limits of your own resources.
The class will be offered via Zoom. All registrants will be sent the link prior to the beginning of the class.
We are sorry, but this class is full to capacity.