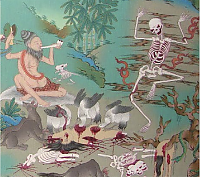 Leaping Back to the Charnel Ground: Facing Fear in the Sadhana of Mahamudra
with John Rockwell
*Please arrive by 1:15pm* This class is being hosted by Boston Shambhla, and we will be practicing together in person in the PVSC shrine room beginning at 1:30pm.
The charnel ground is a terrifying place full of life and death. It is the dumping ground for human corpses and thus the feeding ground for ravenous animals, especially at night. The charnel ground is an excellent place to meditate. In meditation we face our fears that constantly create emotional realms, only to have them die.
We will begin our two hours together with a session of sitting meditation; then Mr. Rockwell will lead us in chanting The Sadhana of Mahamudra. Afterward, he will explore the vivid description of the charnel ground found in the sadhana and how this relates to our immediate experience.
The Sadhana of Mahamudra is a chanted text which contains a vivid description of the obstacles presented by physical, psychological, and spiritual materialism in the modern age and prescribes unwavering devotion to wakefulness as the antidote to the materialistic outlook. You can read more about the Sahdana of Mahamudra here.
John Rockwell met Chögyam Trungpa Rinpoche in 1975 and has been a student, teacher, follower, and leader on the Shambhala Buddhist path for 47 years. His inspiration is to open the heart and senses on the spot.
The instructor will be joining us live, via zoom. No previous experience of meditation or the sadhana is required. Everyone is warmly invited. If you cannot attend at Pioneer Valley Shambhala Center in person, please register at the Boston Shambhala Center website and receive the zoom link from them.
Open Door Policy:
Our intent is to share the Shambhala Buddhist teachings with all who are interested in participating, regardless of financial circumstances.

Most of our programs have a Sustaining Fee — which represents the amount needed to cover the center's costs, and includes things such as our rent, materials and supplies, etc. Our programs also have an Enriching Fee — for those who are able to offer more than the Sustaining Fee. Your generosity in offering the Enriching Fee helps cover the costs for those who are not able to pay the full price. Additionally, if you are able to give more, please consider donating more than the Enriching Fee by choosing the Empowering Fee.
The donations of members and program fees allows PVSC to continue offering classes and a space in which to practice. If the full Sustaining Fee is an obstacle for you, please offer as much of the Sustaining Fee by clicking the "Pay what you can afford" option when registering.