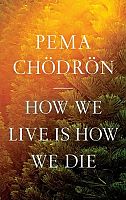 Fall Book Group: "How We Live is How We Die" by Ani Pema Chodron
with Janice Ragland & Mariah Freemole
In this book, Ani Pema brings us teachings to navigate the bardo, an "in-between", or transitional, state. Chodron writes, "The journey that takes place after our death is one such transition, but when we examine our experience closely, we will find that we are always in transition." Ani Pema shares wisdom on how to examine these transitions in our lives and, by doing so, become more comfortable with change, more courageous and more open to living a full-hearted life.
Participants will need to purchase the book for this discussion group. You can purchase it at one of many local bookstores, here on Indiebound, or whever you prefer to purchase your books.
This class is will be hybrid for those needing this option. Please write to [email protected]
to request a zoom link
Open Door Policy
Our intent is to share the Shambhala Buddhist teachings with all who are interested in participating, regardless of financial circumstances.
Most of our programs have a Sustaining Fee — which represents the amount needed to cover the center's costs, and includes things such as our rent, materials and supplies, etc. Our programs also have an Enriching Fee — for those who are able to offer more than the Sustaining Fee. Your generosity in offering the Enriching Fee helps cover the costs for those who are not able to pay the full price.
The donations of members and program fees allows PVSC to continue offering classes and a space in which to practice. If the full Sustaining Fee is an obstacle for you, please offer as much of the Sustaining Fee by clicking the "Pay what you can afford" option when registering.