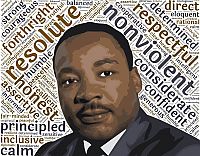 Commemoration and Celebration of Dr. Martin Luther King, Jr.
Inspired by Kazu Haga's recent book Healing Resistance, which is based on Martin Luther King's model of nonviolence as a way of life, a small group of us has been examining how the principles of Kingian nonviolence may be applied as a method for transforming not only unjust systems, but broken relationships at any level. We invite the Pioneer Valley Shambhala Center community and friends to join us in exploring and honoring King's influence with the aspiration that these reflections may serve to generate deep, meaningful community conversation.
We'll be exploring the intersection of following three societal visions: 1) King's view of Beloved Community, 2) the Shambhala view of Enlightened Society and 3) the Buddhist Bodhisattva path, as well our own personal meditation practices. How do these societal visions challenge us to go beyond our limited conceptions? How do they invite us into meaningful participation with the broader needs of society? What might a society look like guided by the vision of inclusion and love? Where do you feel inspired?
Prior to this gathering, we encourage folks to attend the free workshops being offered by "The Resistance Center for Peace and Justice" throughout the day. You are welcome to come to this conversation whether you can or cannot attend the earlier events, though we hope you can take part in some of these offerings as they will be in part the basis of our conversation. Please learn more about how to sign up for these by seeing the full day schedule HERE.
For public health safety, we will be meeting virtually, and a zoom link will be provided upon registration. While we plan on holding the meeting til 7:30pm, we may extend it til 8:00pm, depending on interest of the group and number of people attending. Please feel free to bring some food and drink to enjoy!