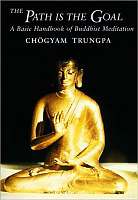 The Path is the Goal: Discussion and Practice Group
with Joe Arak
In the early 1970's, Tibetan meditation master Choyyam Trungpa, Rinpoche, gave a series of talks, published decades later as The Path is the Goal. Those talks would help establish him as an uncanny interpreter of the Buddha's teaching, able to convey its spiritual insights and practical application to a cohort of mostly young Westerners, full of confused, preconceived ideas yet genuinely longing to enter the Buddhist path of meditation.
In stark contrast to today's culture that promotes meditation as a way to improve almost anything - from relationships to job performance to our golf swing - Trungpa Rinpoche offered his students no such enticements. His teachings on spiritual materialism made clear the mismatch between ambitious worldly striving and a genuine spiritual path.
In this class, meeting every other Tuesday evening from 7 to 8:30, we'll discuss each of the book's ten pithy talks, delving into the nature and practice of Buddhist meditation, and the themes of boredom, loneliness, emotions, compassion, skillful action and more. Whether you're someone with years of meditation experience or are just now thinking about starting a practice, you'll find a trove of down-to-earth guidance and spiritual insight.
Our approach will be experiential rather than purely intellectual. Each meeting will include both meditation practice and a discussion of that night's chapter. Participants are encouraged to read each talk beforehand and to make time to practice during the week. Meditation instruction will be offered at the outset and throughout the class.
You will need to purchase the text, The Path is the Goal. This can be purchased at Broadside Books in Northampton as well as online.
Hybrid In-Person format: At this time we are able to host this event in a hybrid format at the Pioneer Valley Shambhala Center in Northampton MA, as well as concurrently over Zoom. If meeting in person, we request that all participants be fully vaccinated, wear masks during the gatherings, and commit as much as possible to attending in person.
Note: In addition, participants are invited and encouraged to join the concurrently-running book group Healing Resistance: A Radically Different Response to Harm by Kazu Haga, in which participants will explore the practices and teachings of Kingian nonviolence on an individual, communal and societal level. Because The Path is the Goal is a concise and insightful primer on the practice of meditation in the Buddhist tradition, it is a helpful complement to working with the principles of nonviolence, which require working skillfully with reactive patterns that so easily cloud out our mind's basic clarity. The Healing Resistance group will meet on alternate Tuesdays beginning one week prior to this class, October 19, 2021.