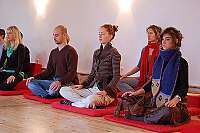 Community Gathering / Open House: Back to Basics - Remembering Who We Are
with Mariah Freemole
Sunday Open House
Join us for our monthly Open House. At 10am, we begin with sitting and walking meditation. After a brief break, at 11am, there will be a talk by a senior student with discussion.
You can find the Zoom link to Sunday Open House on our Home page, for the online connection to this event.
Sunday, October 3 at 10am:
During this Open House session, we will begin by reflecting on Chogyam Trungpa Rinpoche's definition of warriorship ("Not being afraid of who you are") to inspire our discussion and practice of meditation.