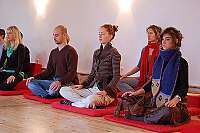 Community Gathering / Open House: Enlightened Society
Sunday Open House
Join us for our monthly Open House. At 10am, we begin with sitting and walking meditation. After a brief break, at 11am, there will be a talk by a senior student with discussion.
You can find the Zoom link to Sunday Open House on our Home page, for the online connection to this event.
Sunday, July 4 at 10am:
The talk will begin an exploration of Shambhala and the notion of "Enlightened Society", based on the book called The Treatise of "Enlightened Society". As in the Shambhala Sadhana, the practitioner is confronted with the contrast between our distrust of human nature and the truth of our fundamental worthiness.