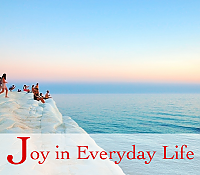 Joy in Everyday Life
with Elissa Kane & Damian Ubriaco
Joy in Everyday Life examines the Shambhala teachings on cheerfulness and health. Through study and practice of these teachings on discipline and the traditional Buddhist teachings of the Mahayana, we step out of the trap of our habitual patterns, free ourselves from confusion, and cultivate the noble heart of compassion. This class is a strong introduction to the Buddhist concept of bodhicitta.
Key elements of the course include meditation instructions, experiential exercises and strong community support. Course text is Pema Chodron's The Places That Scare You. Texts are available at the Center for purchase.
We are teaming up with the Albany Shambhala Center for this program, which is online.
Our Generosity Policy
In order to make our programs accessible to everyone, we have a Generosity policy. If the program price is an obstacle for you, please decide what works for you and offer what feels appropriate to your present financial situation. Never let the listed cost of a program prevent you from joining us. We are confident you will pay it forward when your situation changes.
For those who can offer more, we invite you to pay more to help cover the costs for others who are not able to pay the full price.
Enriching
This price supports those who cannot attend at the Sustaining price
Sustaining
This is the basic fee required by each participant to sustain the costs of the program.
Pay what you can is an option if none of the above options are appropriate for your situation. Please consider the value of the program and practice generosity at the level appropriate for you.