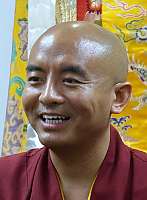 Wandering...But Not Lost: Live Zoom discussion with Director Paul MacGowan
Pioneer Valley Shambhala Center is delighted to invite you to a live discussion with filmmaker Paul MacGowan, director of the remarkable, Wandering…But Not Lost, The Path of Letting Go Without Giving Up, his award-winning documentary of Mingyur Rinpoche's four-and-a-half-year retreat as he wandered incognito on the streets of India, Nepal and in Himalayan caves. (This free event will not include viewing the film. To view it before the discussion, see below.)
Under cover of darkness, sharing his plans with no one, much-beloved Tibetan Buddhist Meditation Master Yongey Mingyur Rinpoche walked away from his life on the international stage to spend more than four years as a wandering yogi — begging, finding food and shelter, enduring severe illness, and facing the constant challenges of living anonymously in an uncertain world.
​Wandering . . . But Not Lost is an intimate account of Rinpoche's remarkable journey of deepening insight into the true nature of the mind, interspersed with Rinpoche's own guidance in applying Buddhist wisdom to our daily modern lives.
We'll have the opportunity to ask Paul questions about the project as well as topics raised in the film. There's no charge for this event.
Watch the official trailer of Wandering…But Not Lost: https://www.ajoyfulmind.com/wandering
If you have not yet seen the film and want to view it before the discussion, special arrangements have been made for those who register to rent it from Vimeo. All the money raised by watching the film on Vimeo goes to promoting the film and supporting Rinpoche's teachings.
The Pioneer Valley Shambhala Center is an all volunteer organiztion. Donations are appreciated and help pay for events and for our center.
You can register below. You will then receive an email containing a link to the site where you can rent the film for a fee of $18. You will also receive a link to the Zoom discussion.
Photo credit: Wikipedia contributor Gazebo.