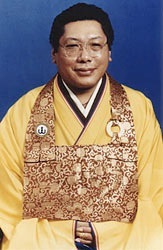 Celebration of the Life of Chogyam Trungpa, Rinpoche
We invite you to join in celebrating the life of Chögyam Trungpa, Rinpoche, also known as the Druk Sakyong, on April 4, 2021, the date of Rinpoche's Parinirvana. As has been our custom for many years, we will mark this moment in time by reciting the Sadhana of Mahamudra, which Rinpoche composed in 1968 at Taksang (Tiger's Lair), at Samye Samdrup in Bhutan. To commemorate Rinpoche's extraordinary life, we will recite the Sadhana of Mahamudra in the context of a feast practice composed by His Holiness, Dingo Khyentse Rinpoche.
We will begin at 6PM. Please arrange to join the Zoom room a few minutes early. The practice will last approximately 2 hours.
The entire liturgy will be shared on screen.
Zoom link:
https://us02web.zoom.us/j/89841641759?pwd=Vlpab2tRSzc2WDlLVGczY2pNSmt0dz09
Offerings such as poetry—your own or other's that inspires you—music, or if you have the space, some performative art such as dance are very much a part of this celebratory practice.

For those who are not familiar with the practice of feast gathering, or gaṇacakra in Sanskrit, feast is an ancient practice within the Indo-Tibetan Vajrayana tradition for affirming and reinforcing our connections with basic goodness, with each other, and with all beings in general. We could understand it as a "sacred party" during which we celebrate the innate goodness and awake qualities inherent in each of us, while simultaneously repairing any infractions or transgressions of our vows and commitments to see all sentient beings as our guides and teachers on the path to awakening. During the feast portion of our practice on April 4, we will eat a meal together. Because we will be holding this event over Zoom, each of us will need to prepare something in advance. It can be elaborate or simple in accord with your personal time and preference. Though not required, the primary substances offered at a feast are meat, liquor and an offering cake, traditionally made from roasted barley. These represent the three root disturbing emotions of aggression, passion and ignorance respectively.

In short, feast practice builds on and extends our everyday practice of developing a complete acceptance and openness to all situations and emotions, and to all people. Life experience is our teacher and we accept everything as nourishment.