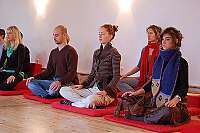 Community Gathering / Open House: Embodied Wisdom - Exploring the First Foundation of Mindfulness
with Mariah Freemole
Sunday Open House
Join us for our monthly Open House. At 10am, we begin with sitting and walking meditation. After a brief break, at 11am, there will be a talk by a senior student with discussion.
You can find the Zoom link to Sunday Open House on our Home page, for the online connection to this event.
Sunday, March 7 at 10:00 am
Embodied Wisdom: Exploring the First Foundation of Mindfulness
This is one of the Four Foundations of Mindfulness, which are practices handed down to us from the early Buddhist Tradition.
Zoom link: https://zoom.us/j/746127106
This event is free and open to all!