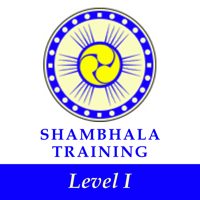 Shambhala Training Level 1: The Art of Being Human
with Shastri Janet Bronstein
The Shambhala teachings are about reclaiming or reconnecting with our full potential as humans. In the Art of Being Human, the first retreat of the Shambhala path, we discover that our tender heart—which often feels like a vulnerability—is in reality a strength. Being genuine feels risky, but we discover it is the bridge that connects us with our world. In these times of speed, aggression and despair, reclaiming our humanity does not come easily — it takes bravery, guidance and the support of others with a shared commitment to move along this journey.
In this retreat we practice mindfulness meditation with a particular focus on the space that opens up when we remember to release our habitual internal chatter by gently noticing what is challenging about meditation practice and connecting this to the more general challenge of holding our hearts open as we move through our lives. Finally, we recognize and celebrate the joy that can arise from simply being human together, and as well as explore the implications of this for the world we share.
The retreat will be held over Zoom. The retreat includes meditation instruction, group practice as well as group discussions and one-on-one meetings.
The retreat will be directed by Shastri Janet Bronstein.
Schedule: Saturday: 9AM - 6PM
Sunday: 9AM - 1PM
Prerequisites: There are no prerequisites for this retreat. It is open to anyone seeking to develop gentleness and strength through meditation or seeking to enrich their existing spiritual practice.
If you have special circumstances, please email [email protected] in advance to discuss them.
Attendance is required for all sessions and for each talk of the program.
Registration: Registration is required for this program. A Zoom link for the program will will be emailed to all registered participants prior to the start.
Requested Fee:
Susustaining level: $80 (helps us to continue offering these retreats)
Enriching level: $100
If you are repeating this retreat: $45
Because we recognize these are difficult times for many people, we also offer an "open door" policy; if neither amount is within your current means, kindly offer a meaningful donation which is within your limits.
The Way of Shambhala, of which the Art of Being Human is the first weekend, is composed of five retreats, each of which may be paired with a five or six week course that expands upon the teachings offered in the retreats and brings the practice of meditation into everyday life.