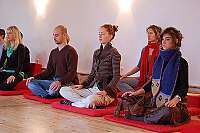 Community Gathering/Open House: Egolessness and Non-bias - Discovering Interconnectedness with Our World
with Janice Ragland
Join us for our monthly Open House. At 10am, we begin with sitting and walking meditation. After a brief break, at 11am there will be a talk by a senior student with discussion. Please see the link to Sunday Open House on our Home page for the online connection to this event.
For December:
The topic of our talk is "Egolessness and Non-bias - Discovering Interconnectedness with Our World"

Practicing Mindfulness leads to the ability to no longer centralize onto only our own needs and biases (we call this process egolessness in Buddhism).

As Pema Chodren has said:

"…there's more at stake in learning about spirituality and meditation than just trying to feel good about yourself or getting better at relaxing. Replacing "us and them" with a feeling of our universal sameness and interconnectedness is becoming a practical requirement for survival."

From Welcoming the Unwelcome by Pema Chodren, 2019, p. 149.