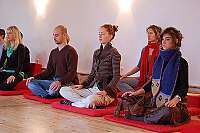 Community Gathering / Open House: Six Ways of Ruling
with Anthony Walker
Join us for our monthly Open House. At 10am, we begin with sitting and walking meditation. After a brief break, at 11am there will be a talk by a senior student with discussion. Please see the link to Sunday Open House on our Home page for the online connection to this event.
For November:
The topic of our talk is "The Six Ways of Ruling" developed from the Sakyong"s book of the same name.

We will discuss the "Six Ways of Ruling" as guidelines for the art and practice involved in the group decision making of participatory governance.

They are founded upon the same principles most basic to the practice of meditation. Namely.. precision. gentleness and letting go.

Through meditation practice we gradually discover our own innate nature to be "Basic Goodness". We extend this experientially grounded belief to others. As such it is the foundation for creating governance for "enlightened" communities.